This article caught my eye on Twitter the other day:
11 Fashion Rules for Petite Girls
. Now, being a member of the not-quite-5-ft club myself, I feel I can offer some expertise in what it's like to wear clothes as a 'petite' girl. You see, the rules aren't always practical or possible. Check out my top six pointless rules for petite girls: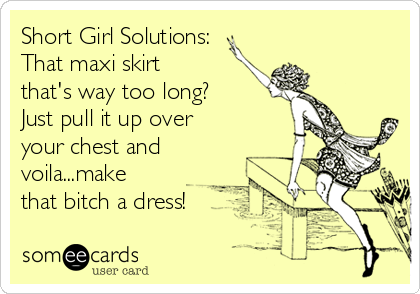 Here's a few examples:
1. Daaarlings, wear maxi dresses! It's all about lengthening your silhouette!
This one is classic Gok Wan. If you ever watch any of his shows where he becomes personal stylist to a short arse plain Jane, he will always pull out the maxi dress. Great. I like the theory. However, even the limited range of maxi dresses in the Petite sections of most high street stores are a good few inches too long for a girl like me. And I'm sorry, Gok, but four inch platforms don't do it for me in the height of summer, I'll be there in my denim shorts and flip flops, thank you very much.
2. Heels are your friend.
Heels are not your friend. Heels look pretty, they do elongate the leg and give the impression of height. HOWEVER, they also are highly impractical on a day to day basis and if you have to walk for any distance at all in them, they hurt. Fine if you're tottering from your house to your car, your car to your desk and then home again, but if your life involves walking, public transport, or running around after children then you can push all those pretty heels to the back of your wardrobe and pull them out only for date nights and weddings. Converse are your friend. Converse and flip flops.
Another practical note regarding the advice on ankle straps cutting your legs in half - you find me a nice court shoe in a size 2.5 and I'll happily wear them. Until that day comes, the ankle strap (or the across-the-top-of-your-foot type strap) is what keeps those lovely size 3 heels from slipping right off my feet.
3. Avoid cropped anything.
Ok, I agree with this when it comes to trousers. Cropped trousers are not your friend - surprising then how often they 'crop' up in Petite sections on the high street. Most petite gals will know to avoid the cropped trouser so I can only conclude that leggy blondes, or men, are designing Petite ranges across the nation. However, cropped sleeves are your friend. Why? Because if you buy anything else the sleeves will cover your hands and you'll just end up rolling them up anyway. At least if you wear a mid length sleeve it will look like it fits even if it does cut your arm in half (and if you have short arms like me, then most of the time they'll look almost-long-enough anyway!).
4. Make sure your clothes fit perfectly.
Ok.... so when I can afford a personal tailor then this might be a go-er but until that point I am limited to shopping in a few select stores who have tiny tiny Petite departments. Whilst I understand the importance of well cut jackets (and believe me, I have a whole wardrobe of Petite blazer type jackets), I do have to settle for ill fitting tops and jumpers quite often. Skirts are a definite no-go and never come jeans shopping with me, you will feel like poking your eyes out with pencils.
Just saying, easier said than done.
5. High-waisted wide legged trousers that skim the floor when you're in heels are a winner.
Firstly, see point number 2.
Secondly, I was a teen in the noughties. I remember super-wide leg jeans being a thing. They were not a good look for anyone, let alone us short types. Just because it works for Rachel Zoe in a photo shoot, doesn't mean it works for us in every day life. In fact, any item of clothing that requires heels to be worn when you're popping out to the supermarket is a no-go for me (and there's nothing worse than having ripped hems because even with the best will in the world and the tallest heels you can muster, you still tread them down!).
6. Love your small shoe size, they're always left in the sale.
Just to set the record straight, small sized shoes are not always left in the sale, neither are larger sizes. I worked in a fashion shoe shop. Generally speaking, you get less of the size 3s in to start with, they sell out immediately and then boo, none left for the sale. The size 3s that end up in the sale are the horribles ones that no one wanted in the first place. Also, a lot of sports brands begin their adult ranges at size 4 (Vans being one), a size 3 falls into the Junior range - great for not paying VAT, not so great for buying adult shoes.
Disclaimer: I worked in a fashion shoe shop on Charing Cross Road, right on the edge of China Town where there's probably a larger than average small feet population, so if in your locality there's always nice size 3s left in the sale then lucky you. Where are you shopping?
So, now that I've debunked all of these short petite fashion rules and myths, I'll share with you my pearls of wisdom from many years of experience shopping petite:
1. New Look is your friend.
Firstly, they have the best, most affordable petite range on the high street. Secondly, you can often find some gems in the 9:15 teen section. Apparently at 152cm (that's a good inch taller than me), you qualify as a 12 year old so as long as you're not sporting huge boobs and hips you might strike lucky - just be careful to stick to the basics to ensure you're dressing for your age!
2. Next is not your friend.
It pains me to say it because I like Next as a brand. But their Petite section has never really hit the mark for me. Skirts, tops and tailoring are generally pretty good but all the trousers (which are generally what you search Petite sections for) are out of proportion. They have huge, saggy bottoms as if they've just cut the legs off at the knee and are hoping we won't notice.
3. Get good at adjustments...
... or find someone who is. I so often have not bought a dress or skirt because it feels like too much effort to take it up, but I know my wardrobe would be a whole lot more exciting if I took my crafty skills to the next level.
4. Love who you are and be yourself.
Countless times I've tried to do the heel thing. I love people in heels, I think they look great, but I just have to accept that right now, heels are so impractical for me and my life. And that's ok. I'll be treading the streets in my trusty Converse and loving every minute of it.
Yes, I'm short. No, I never did quite make it to 5ft. Everyone towers above me everywhere I go. I can't see over the counter in many a bar or coffee shop. I often don't hear what people say to me because they're such a long way up and yes, people often have conversations over my head while I daydream.
But you know what, I'm ok with all of that because I often get mistaken for being a decade younger (which is ok when you're 30, not so much when you're 22), I don't pay VAT on a lot of my clothes and I still married a guy over 6ft for genetic selection purposes so our kids have a chance of being average height. Everyone wins!
***
I'm taking part in Blog Every Day in May. Check out these two challenges and join in the fun!